September 11, 2006
July 07, 2006
Holy shite! has it been that long???
hola! i'm not sure who is even reading this anymore....I'm such a slacker. But work hear has been pretty, well, all consuming. I barely have time to check my emails. I thought I'd drop by and say hi...and post a picture of my darling little indian!! she's about 15 months now and WALKING! about freakin time! it took fatty a while, but she's up and running. so on that note, here she is!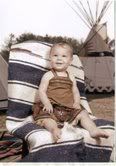 she's cute ain't she? sooooooooooo.... leave me a comment if anyone is still reading this!!! later taters!
May 12, 2006
March 28, 2006
February 08, 2006
January 06, 2006
December 21, 2005
December 07, 2005
December 06, 2005
December 05, 2005